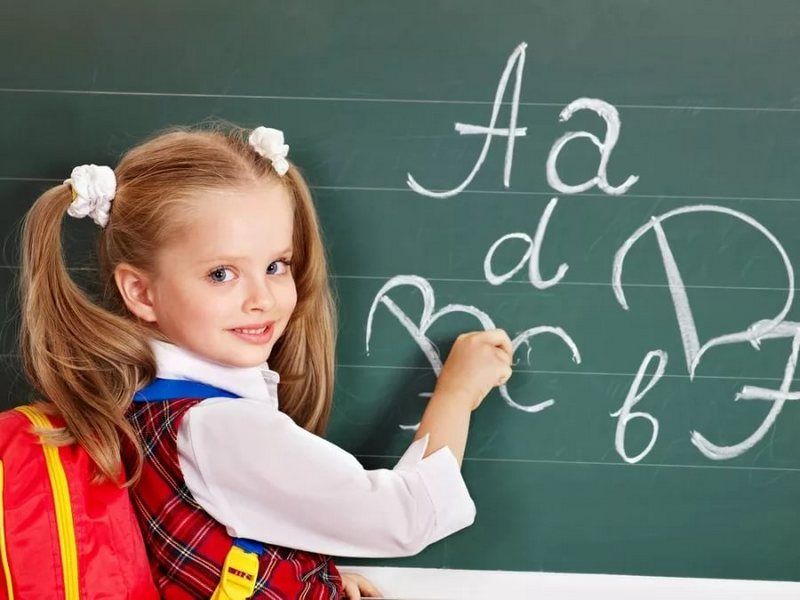 One of the most emotional questions that most parents are worried about is "How do I understand when my child is ready to go to school?"

There are four groups of parents with different views:
- The first one thinks that a child who is 8 years old will be bored in the first year.
- The second group believes that if a child goes to school at 6.5 years old, it will be very difficult for them to study.
- The third group claims that the child should be ready for school completely: they should be able to read, write, count, and if they also knows English, it is good, so, the child must be fully intellectually developed.
- And the last group of parents believes that the child should be ready mentally and psychologically.
So what option is the best? In our article, we will try to understand this issue.
Any of the above could be correct, because the parents knows what is best for their child. Most importantly, this choice must be made consciously.

The child should be interested in learning - this is the main motivation. This motivation appears in children between the ages of six and eight. This is also arbitrary and happens when the frontal lobes of the brain are maturing. If this motivation does not appear in the child, its mean that they are not yet ready for school. However, the choice is still yours.

If your child knows engages in any learning activity and can sit quietly for 30 minutes without being distracted by toys, cartoons, etc., this means that they have well-developed willpower. Academic performance and adaptation to school depends on this. That is why it is very important to form this ability before school.

The child can dress by themselves, change shoes, put their school supplies in a backpack, they can easily remain without parents for half of a day, which means this child is completely independent. There are also children who have already learned to read, write and count, but when they part with their parents they are very stressed. They cry, and, of course, it means the child is not ready for school and new knowledge.

Therefore, you need to be prepared for this in advance: if the child does not visit kindergarten, then you need to attend some children's clubs or classes where they will study for some time without mum and dad.

At school, children need to do what their teacher asks. These are not only verbal and written assignments, but also rules of conduct. Instructions or requests by an adult, daily routine, behavior in the dining room or extended day group - the child must learn to listen to the adult and carry out various instructions or requests. Such a skills in children are formed precisely in various classes, clubs, and of course in kindergarten.

It also happens that a child does not want to go to school. In this case, you need to give them the right motivation about going to school so the child will be positive about it. Through conversations, try to find out and ask them what exactly makes them anxious. This is a very important point where parents must try hard to give to the child a positive attitude. If you do not manage to solve the problem on your own, then it is better to contact a child psychologist.

Future first-graders are waiting for new acquaintances, they will need to learn how to find a common language with all classmates, and even with those whom they do not really like. All this needs certain communication skills.

Children get these skills long before school: in kindergarten, on the playground at clubs and activities for preschool children. To be able to share school supplies, but at the same time not to forget about personal boundaries, to be able to be in a team, all this a child will have to do at school. And all this will be easy and simple if they have had plenty of communication with other children at an early age.

The child must have a well-developed memory. Be sure to pay special attention to memory skills before school. Since at school, children will have to memorize a lot of new information. The memorization of poems and songs and games which develop attention will help with the development of this ability.

Another important point is fine motor skills. They must be well developed in the child in order for them to master writing skills. To avoid difficulties with writing , fine motor skills need to be developed long before school. Encourage your child to make jigsaw puzzles, sculpt from clay, collect small pictures, mosaics, and string beads on a thread.

Rich vocabulary will help your child to easily learn and understand new knowledge. Children should know what awaits them in a new place, parents must describe in detail what they will have to do. They must know how to behave during break and in a lesson at school. The child must be aware of everything and be ready for everything as much as possible.

Always support your child so that they have good self-esteem. This is the key to success for them. But, do not forget to tell and warn the child about the failures that will appear on their way. Stress that it's not a reason to be upset, but a reason to make every effort to achieve success.

Help to your children believe in themselves and in their abilities. After all, the support of parents is the most important thing for your children.